Valley Baseball & Softball Games cancelled this evening. Track Meet is now tomorrow.


ATTENTION PARENTS! It's time to think about your child's SCHOOL VACCINES! The State of Ohio has immunization requirements for children entering the following grades: • Day Care • Preschool • Kindergarten • 7th Grade • 12th Grade The Scioto County Health Department carries all required and recommended vaccines for infants, children, teens, and adults. No appointment necessary! Walk-in clinic hours: Monday - Friday, 9 am - 4 pm Location: 612 6th St, Suite D, Portsmouth, OH 45662 (Courthouse Annex, lower level, across the street from the main Courthouse entrance) We accept most private insurances as well as Medicaid and Medicaid Managed Care plans. We also have all childhood and school vaccines (and some adult vaccines) available for people who do not have any insurance. If you have questions, please call 740-355-8358 and ask for a nurse. PLEASE BRING YOUR CHILD'S IMMUNIZATION RECORD AND INSURANCE CARD (if you have one) WITH YOU! PLAN AHEAD AND BEAT THE RUSH!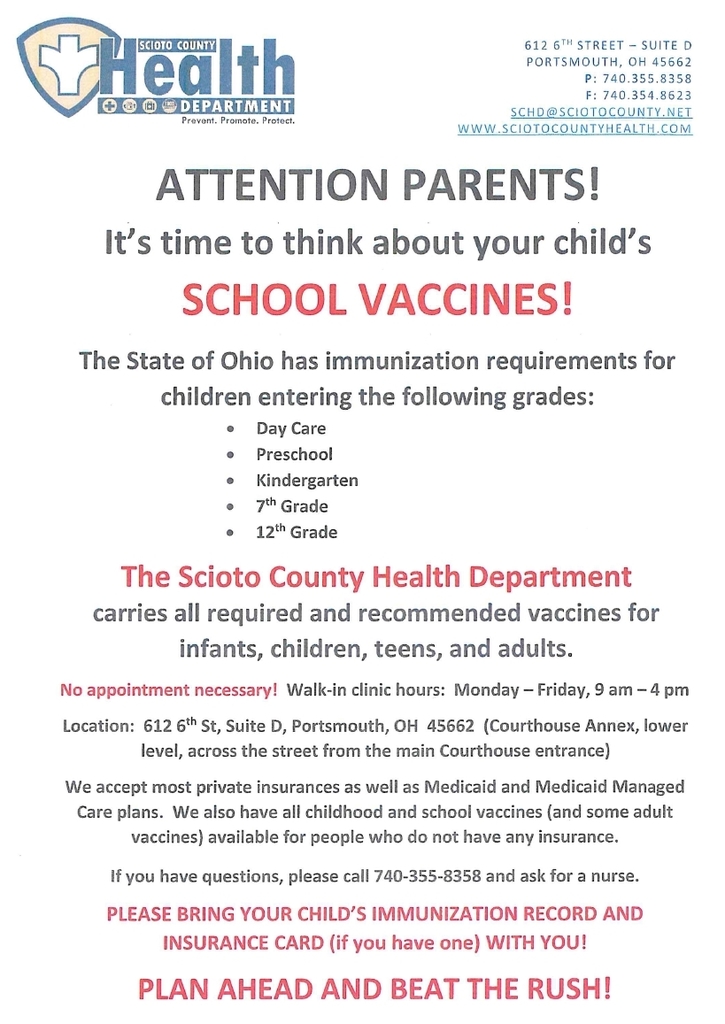 Valley parents and students. This is a reminder that if your child is sick, has been exposed to covid, or is positive for covid, please do not send them to school. Report all absences to your child's school and complete the student illness survey located on the valley website(and below in this post). This survey is located next to the information about covid 19. We ask that anytime your child is sick, exposed to covid, or positive for Covid that you complete this survey and do not send them to school. The school nurse, or Mrs. Buckle will contact you if more information is needed and when your child can return. We appreciate your help in keeping Valley students and staff safe and healthy. "
https://docs.google.com/forms/
...